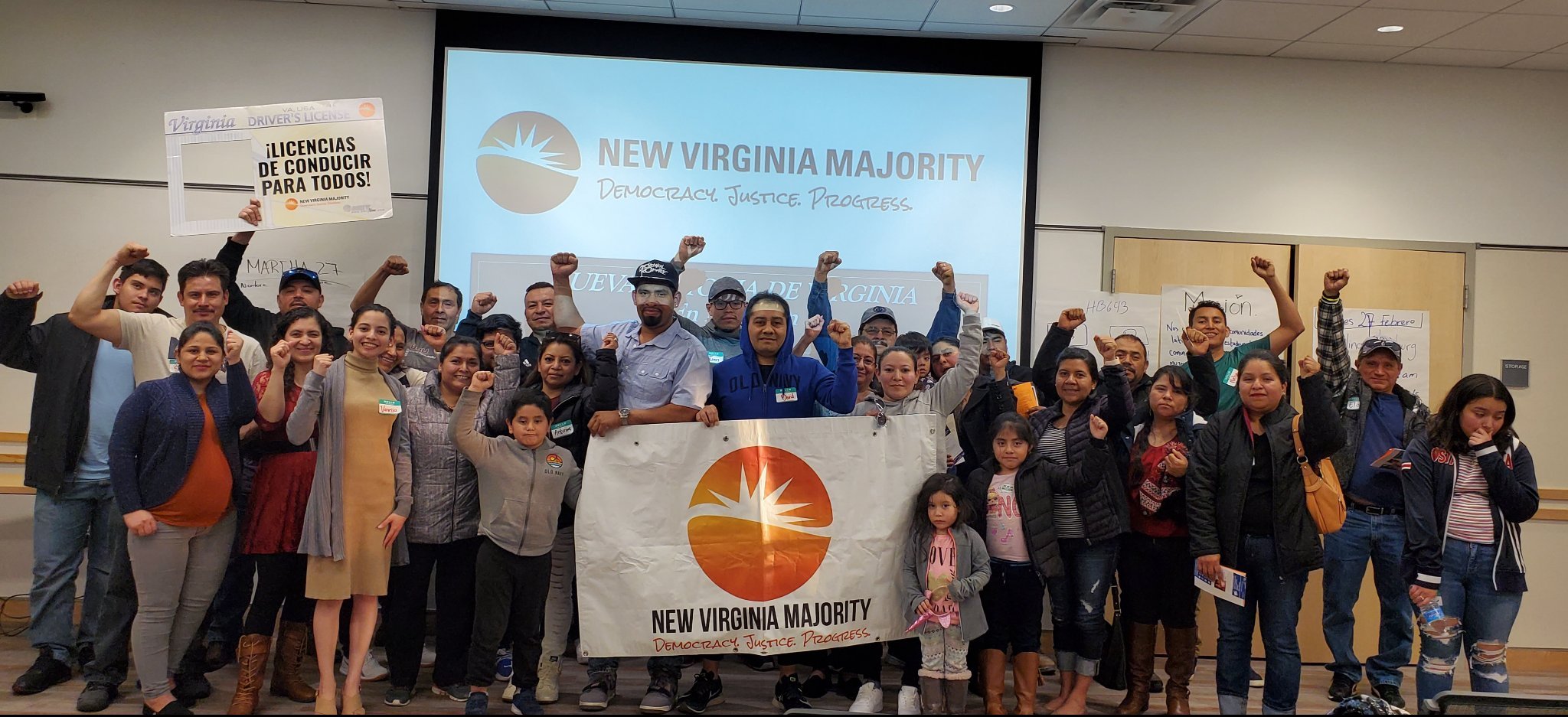 Haga clic aquí para leer una versión en español de este artículo.
New Virginia Majority was founded twelve years ago with a mission to build a consistent voter base in the state of Virginia that champions sustainable and progressive politics. New Virginia Majority's organizing campaigns center on building equity and justice for communities in Virginia by stressing the importance of political participation and voting; moreover, New Virginia Majority focuses much of its efforts on helping people of color and immigrants in Virginia become aware of their rights and the possibility to participate—fully participate—in their communities.
To learn more about New Virginia Majority, the impact of their work, and how New Virginia Majority uses Action Builder, I met with Isamar Ortega and Sofia Saiyed, two Lead Organizers with New Virginia Majority, and we talked about their experiences with Action Builder and how the Action Builder tools have helped New Virginia Majority's organizers and activists continue to push towards accomplishing their mission of creating just and fair communities in Virginia.
I want to start by asking you to share a bit about some of the campaigns you're working on currently. Are any of these hosted on Action Builder?
Isamar started by telling me a bit of New Virginia Majority's history with Action Builder:
"Well, we started using Action Builder through our campaign to acquire driver's licenses for undocumented people in Virginia in 2019, and since then we have incorporated more campaigns and 'mini-campaigns'—all having to do with safe and just housing initiatives."
Since starting to use Action Builder in 2019, New Virginia Majority has continued to work on campaigns that promote equality and justice in housing for the Latin American community in Loudoun County, Virginia. This is an ongoing goal for New Virginia Majority, and it shines through their large-scale campaigns as well as 'mini-campaigns,' like a current mini-campaign intended to protect individuals from unfair evictions.
New Virginia Majority takes ample advantage of Action Builder as a database for contact information. Sofia told me, "We use Action Builder as our database for contact information and to reach out to other organizations. We have more than four thousand contacts to manage, and Action Builder is a very useful tool to organize them."
Isamar and Sofia also told me about their experience with Action Builder and why they find it so useful in their organizing work, not only to keep organized and up-to-date with their responsibilities, but also to create and nurture connections as activists and organizers. Isamar added:
"Action Builder is a tool for connecting with the community because it lets us build the relationship [between activists and community members]. When we upload data into Action Builder, it lets us know what challenges the community is facing, or how our work has impacted the vulnerable communities we work with. I vouch for Action Builder—I like it."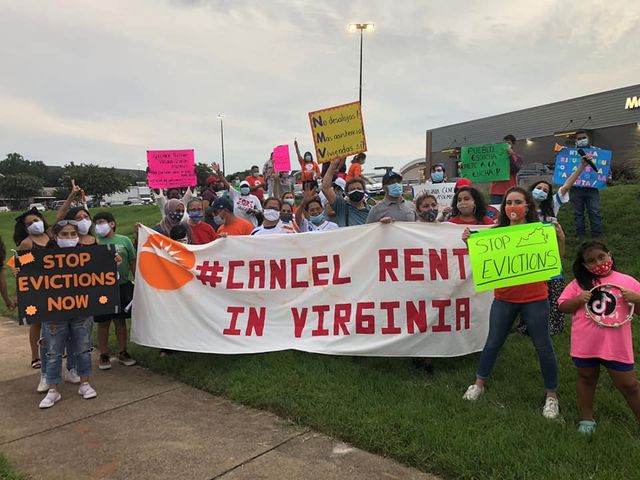 What are some of the features on the Action Builder toolset that have really helped your organizing? Have these features helped you find success?
As Isamar tells it, the focus of New Virginia Majority's campaigns are most frequently about finding equal and just housing; it makes sense, then, that Isamar mentioned Action Builder's Map function. New Virginia Majority's organizers are constantly on the beat, knocking on doors and talking in-person with members of their communities.
"It helps us a lot to use the map tool," Isamar told me. "Because it lets us, when we are out knocking on doors, know with certainty who lives in that building. It's a lot easier to confidently knock on those doors [with the Action Builder map in hand]." Using Action Builder's map feature gives New Virginia Majority organizers the ability to find and speak with members of the community with more confidence, safety, and ease. Beyond the Map function, Isamar also noted the usefulness of being able to identify which members are leaders, activists, or community members supporting New Virginia Majority's campaigns. With Action Builder, New Virginia Majority organizers can rely on the Map feature to find community members with ease, but can also rely on having Action Builder in-hand, making conversations with community members easier and more impactful.
Other than the Map, another Action Builder feature that has helped New Virginia Majority is the Tasks function. "For example, we can set a task to create Call Lists for organizers and leaders, as well as create activist accounts for members to access Action Builder and make those calls," Sofia told me.
Since you started using Action Builder in 2019, how have your organizers gotten accustomed to the tools? Have you done some form of Action Builder training?
Isamar told me that New Virginia Majority started to take real advantage of the Map feature in their organizing shortly after starting to use Action Builder in 2019—before the pandemic. Although it is still crucial to take precautions for the coronavirus and have public health in mind, nowadays it is possible again for New Virginia Majority to develop in-person campaigns. Isamar recounts:
"In the past, we had a leader-organizer who was in charge of organizing [Action Builder] training, especially with other leaders among the organizers. Now that we are returning to in-person action and organizing, we want to initiate training again in a broader way with our leaders [in Action Builder]."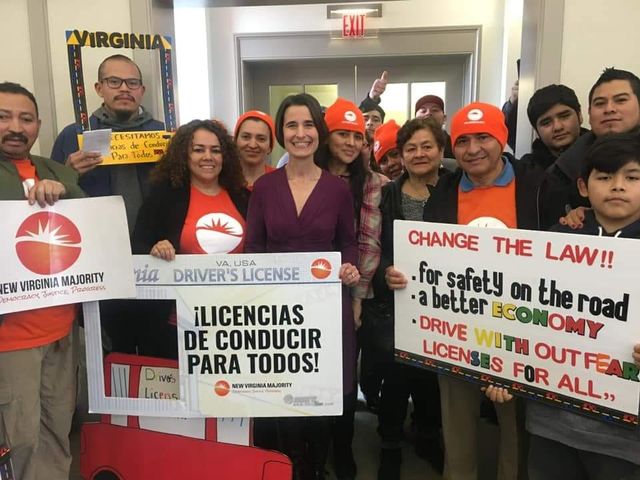 What were some of the challenges and successes that you've had while training your leaders to use Action Builder?
"In our community, not everyone can use technology [well]; despite this, many of our members are learning and becoming familiar with it, almost all of them remotely. It has worked, and it's still working, but it can be difficult at the same time," tells Isamar.
Isamar, you told me that, for you, Action Builder is "a tool for connecting with the community." Since starting to use Action Builder, how and how much have these connections grown? Are there more community members in leadership roles today?
Isamar started by telling me, "It's a balancing act, but [Action Builder] helps us identify how many leaders we had in 2019 compared to today; every three months we analyze our lists and contacts, and we figure out how many individuals could be member-leaders in the organization."
New Virginia Majority demonstrates how Action Builder can be used in innovative ways, by using Action Builder as a database for their campaigns, but moreover how an organization can use that database to take stock of their successes over time as well as to find challenge areas and face them head-on.
Sofia added:
"More than anything, Action Builder has made our administration more efficient. Before, we had many different spreadsheets with different data sources for different cities for different campaigns—it was too much! With Action Builder, we can spend less time on admin work and everything can be in its place. In Action Builder, everything is more efficient."
Thank you, Isamar and Sofia for sharing your stories and experiences with Action Builder. Before going, are there any projects you're working on in the coming months?
With plenty of energy, Isamar jumped in:
"Yes! We have a lot of work to do. We have local as well as state-wide campaigns in Virginia—knocking on a lot of doors, talking with community members, completing interviews and surveys, there's much to do. Luckily, we have Action Builder in hand."

I want to give a heartfelt thank you to Isamar and Sofia for an animated and informative conversation. Action Builder is always happy to foster partnerships with organizations, like New Virginia Majority, who find innovative ways to build successful campaigns. New Virginia Majority's mission of support for vulnerable communities and to create justice in communities speaks to Action Builder's adaptability as a toolset built for progress.
If you want to learn more about Action Builder, its features, and how the toolset can help power your organizing campaigns, join us for one of our live sessions! Click here to see the monthly training schedule and sign up.