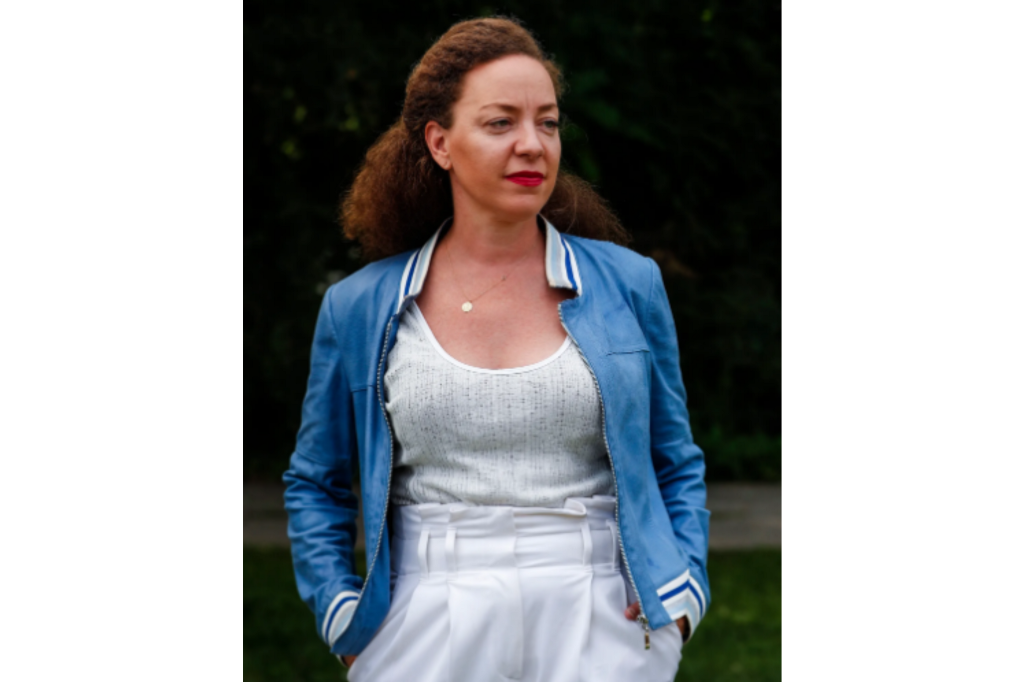 Vote.org CEO Andrea Hailey is a self-described Hoosier, activist, defender of democracy, and expert on civic engagement. We spoke with her in 2021 to hear about the forces that drive her work, her voting journey, and how she plans to continue driving record-breaking turnout at the polls. Her responses have been edited to fit this narrative format.
"Our family history is that my grandparents came from South Carolina. My grandfather went away to World War II and came back to a country that didn't want him to vote. The world I was born into is different. I had the right to vote. I went to integrated schools. This is not the reality that my grandfather or my father had growing up.
Being a person whose family is personally impacted by voter suppression in real-time makes it feel like, as much as I love my job, it is a necessary component of life and life for my family. We can sometimes lose sight of how recently a lot of these freedoms were attained and won. I know that my family and family story will not benefit from an authoritarian government that doesn't want us to participate. I know that when you can't have your voice heard a lot of terrible things can happen to you and your community. Since I can remember, my parents drove people to the polls and participated in poll watching, so it's just kind of integrated into our entire family experience. So I don't think it's a surprise that I do this work now, but it's not just work — it feels like survival.
At Vote.org, our work is to simplify political engagement and to help protect democracy, to make voting easy and joyful, and to simplify the process so that as many Americans as possible can have their voice heard. So that work means that we keep track of all the election rules and laws in all 50 States. We have an election alert program that people can sign up for so that voters have all the up-to-date, nonpartisan information they need to participate. We also have a 50 state get-out-the-vote operation telling people when the election is coming, encouraging people to go vote and have their voice heard. We're using the radio, digital engagement, text messages, food trucks… you name it, we do it! At the end of the day, the idea is to have as much impact as possible and help contribute to greater turnout.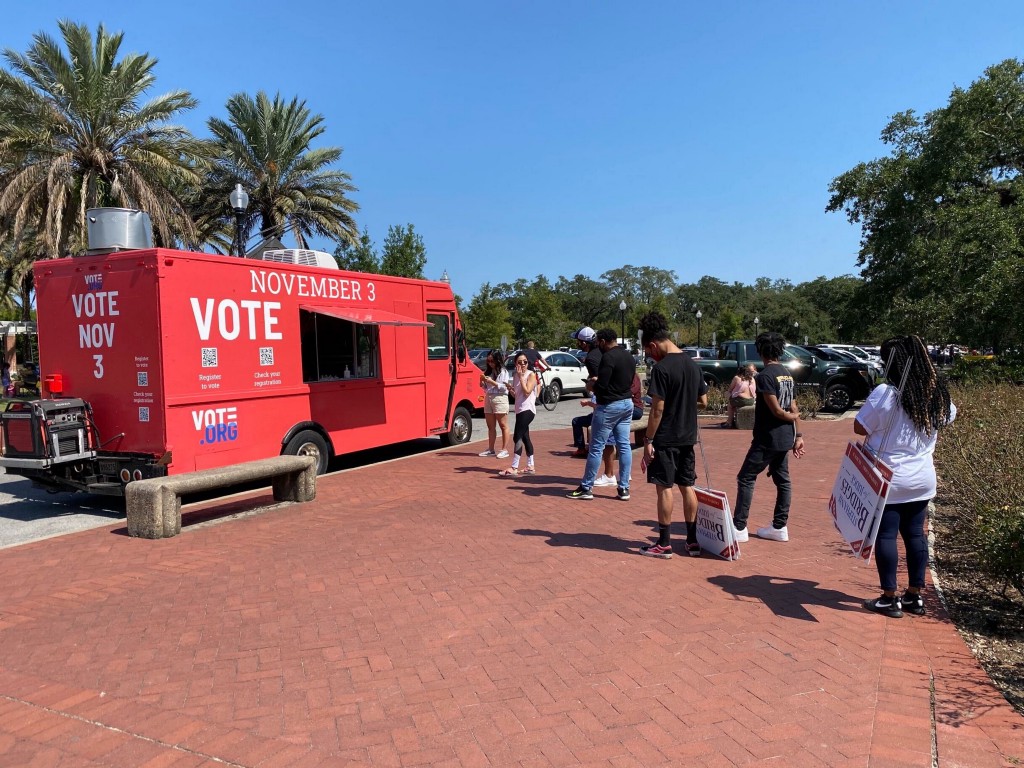 One of the great things about having a remote team that is dispersed is that we also have all sorts of different voting experiences on our team. So when we're building, we're building for the eight-hour line that I had at my polling location here in Indianapolis. Can you imagine being the head of Vote.org and having to show up three days in a row for early voting, trying to vote, and having to get back to work and being unable to stand in that line for that long? My vote was being suppressed in real-time.
To respond to those long lines, we put out some of our food trucks in Indianapolis as well, just to try to bring some joy. But, you know, that's my voting experience — we have staffers that are in California, who were able to mail in their ballots, easy peasy, no problem at all. We have people who are in D.C. and Ohio and Florida, and there are real regional differences to what people's experiences are. And I think it brings a lot to our team, that we have this kind of regional diversity.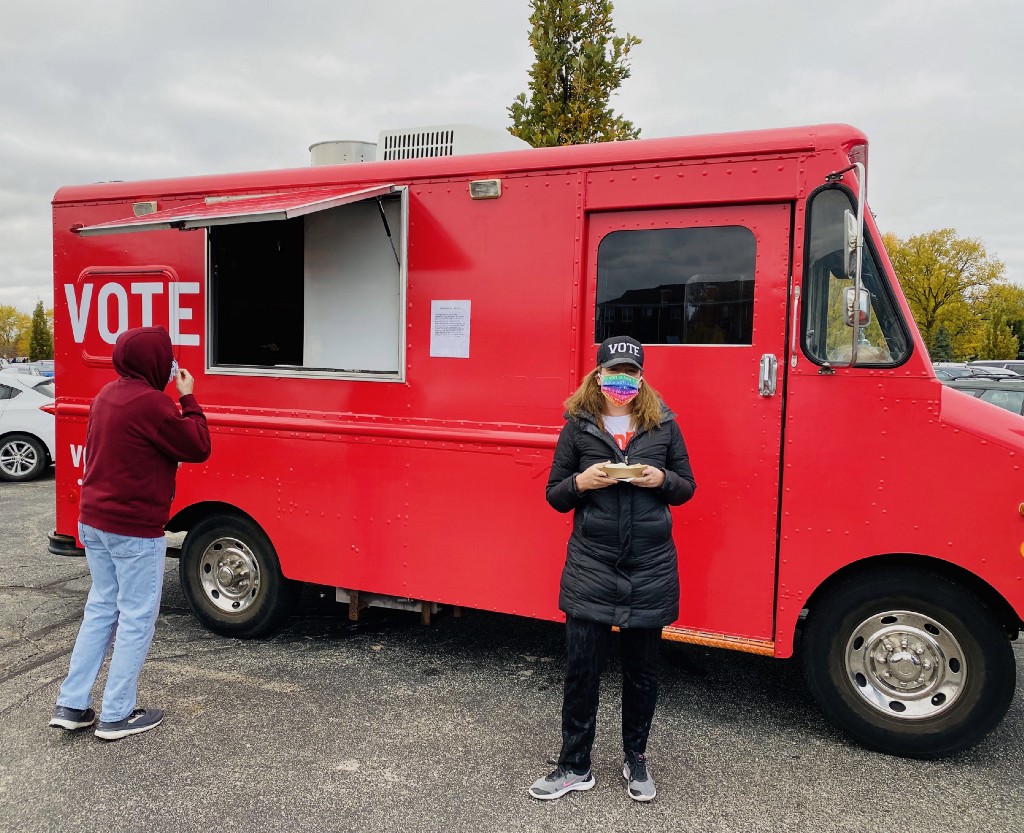 The Power of Engagement
4.4 million people registered to vote and more than 3.3 million requested mail-in ballots with Vote.org in 2020.
We've had more engagement at Vote.org in the last year than all the other years of Vote.org combined. So that, combined with a global pandemic, presented a big challenge for our team, and everybody rose to the challenge. Everybody really came together, and everybody is designing tools with the idea of having the voters in mind first and then working our way back from that to see how we can really support people on their voting journey to the best of our ability. I really can't say enough about the excellent team and team culture that we have at Vote.org and everybody's ability to help scale this year.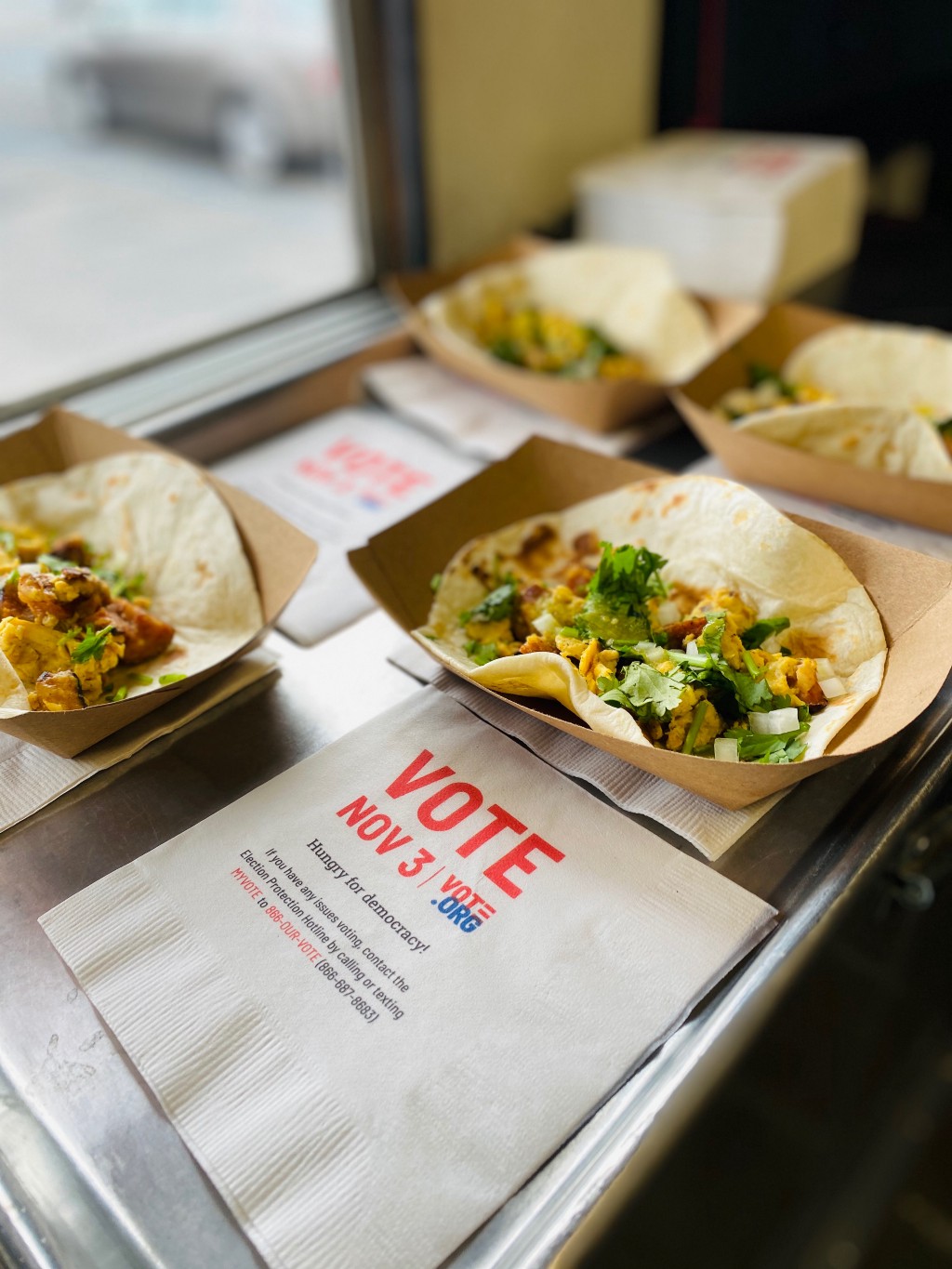 There was a historic turnout in the 2020 elections. We had the highest turnout we've had in over a hundred years, and we had historic engagement among all sorts of different types of people, from young people to people of color, and that changes the dynamics of power. I'm looking for a day when we can see an 80% turnout in this country. That would be the dream scenario because it means that we're having a representative majority of Americans' voices heard, and that's what a healthy and thriving democracy is.
"Freedom is never really won. You earn it and win it in every generation." I was taught this quote by Coretta Scott King as a little girl. Growing up, these words have always been very present in my mind. The 2016 election was the next generation's call to protect our democracy, to protect the ability to vote, and to get involved in programs like Vote.org, Black Voters Matters, Mijente, New Georgia Project, and The Brennan Center.
I want people to know what's happening right now and that you can fight back. I think that the ability to adjust, willingness to lean into those hard moments, having a purpose in what you're working on, all those things really contribute to being able to be resilient in the face of tough challenges. I'm lucky I'm blessed with the team that was also all the same way. And so we were able to unify as a group and rise up to that challenge.
When I say that I'm waiting to pass the baton to the next generation, I'm very well aware that it was passed on to me. I think of Civil Rights heroes going around with clipboards in Mississippi registering people by pen and paper. For the next generation, this is very similar voting work, only we have digital tools and the internet. We registered a million voters with digital tools. I can't wait to see what the future brings and what this next generation does. I do know that it will be just as important for them to stand up one day, as it is for me to do it right now. You see so many people in the next generation who are taking the fight into their own hands and really getting it out to their peers and really caring about what's going on in their community and in their state and across the nation. I know there's a whole generation coming that's ready to continue the work. I take my obligation of holding the line until they all get here really seriously, but it is cool to see because it gives you hope, and then you show back up the next morning feeling even stronger.
Thank you Andrea Hailey for taking the time to share your experience with us! We're so proud that Action Network helps power Vote.org's crucial work defending democracy.
Visit Vote.org to check your registration, register to vote, request a mail-in ballot, and get the critical updates you need on voting in your state.