Organizing supports you and grows to meet the demands of changing times, and it inspires you to take action. Through her organization, Rising Organizers, Elyssa Feder leads private and public trainings for organizers. In 2018, I joined the Rising Organizers Fellowship, a three-month-long free program for new organizers, and met Elyssa along with the rest of the team. Elyssa joins me this month to share how Rising Organizers got started as a hub for new leaders and organizers.
What determined a successful model when building Rising Organizers?
Rising Organizers was created to fill what we perceived as a gap in the organizing infrastructure. If you are an everyday person, and you know something is wrong in your community and you want to do something, to organize around it, it can be hard to figure out how to even get started. And so building an on-ramp from, "I know there's a problem" to "I'm gonna actively engage people around that problem" was basically the thing that we were trying to solve for. And we know there are new organizers entering this work all the time, and we wanted to be a resource for them and their organizations.
What were your keys to success in building Rising Organizers?
We took a long time honing in on what our unique contribution could be. We didn't become an organization called Rising Organizers until 2018, even though we had our first training two weeks after the 2016 election. The key to our longevity has been a few things. One is that we are really centered around relationship building. This was an all-volunteer operation until a year ago. The strength of the organization is just that we build strong organizing-based relationships that have a shared vision and shared values.
It's also a matter of internal flexibility in the organization. We had this list of values on our website, which was part of our strategic planning process. One of them is, "We are not tied to any particular way of doing things because we're responsive to people's real needs." That means that we change the organization all the time because we have the relationships to do it. 
I think that the relationships with shared values and the commitment to being flexible to serve the external goals that we're trying to meet, which are to build more power for more people and a stronger democracy for everybody, have allowed us to land where we are.

How do you stay true to your values?
Rising Organizers is a multiracial movement of people who are in deep relationship with each other. The team really helps keep each other grounded. I have a great team that comes from many different backgrounds that helps make sure that the organization remains grounded in the reason that we're here. We can have really intentional conversations about, "Why are we doing something, what is the purpose?"
The reason for being is to make sure that other people can gain the skills to build power in their communities. That is our focus. Anytime anybody slips off that track, the thing that brings us back to be able to center ourselves is the purpose of the work. And I think that only happens when you are in deep relationship with people who share a lot of the same values.
With all the changes that are taking place around us, what do you propose to get people's attention?
We provide a pathway that helps make sense of the information overload. There are lots of avenues to social change, and I think that organizing is the most effective one of them. Being able to get in front of somebody and say, "We have a program that's going to help you make sense of it, and you're going do it in relationship with other people that are going through the same process as you," has proven to be powerful. We're solving for a problem in people's real lives.
We provide private trainings for organizations that are trying to bolster their organizing capacity. We want to train you no matter where you're at, even if you're brand new, even if you're not technically an organizer. That has made us appealing and attractive to other organizations.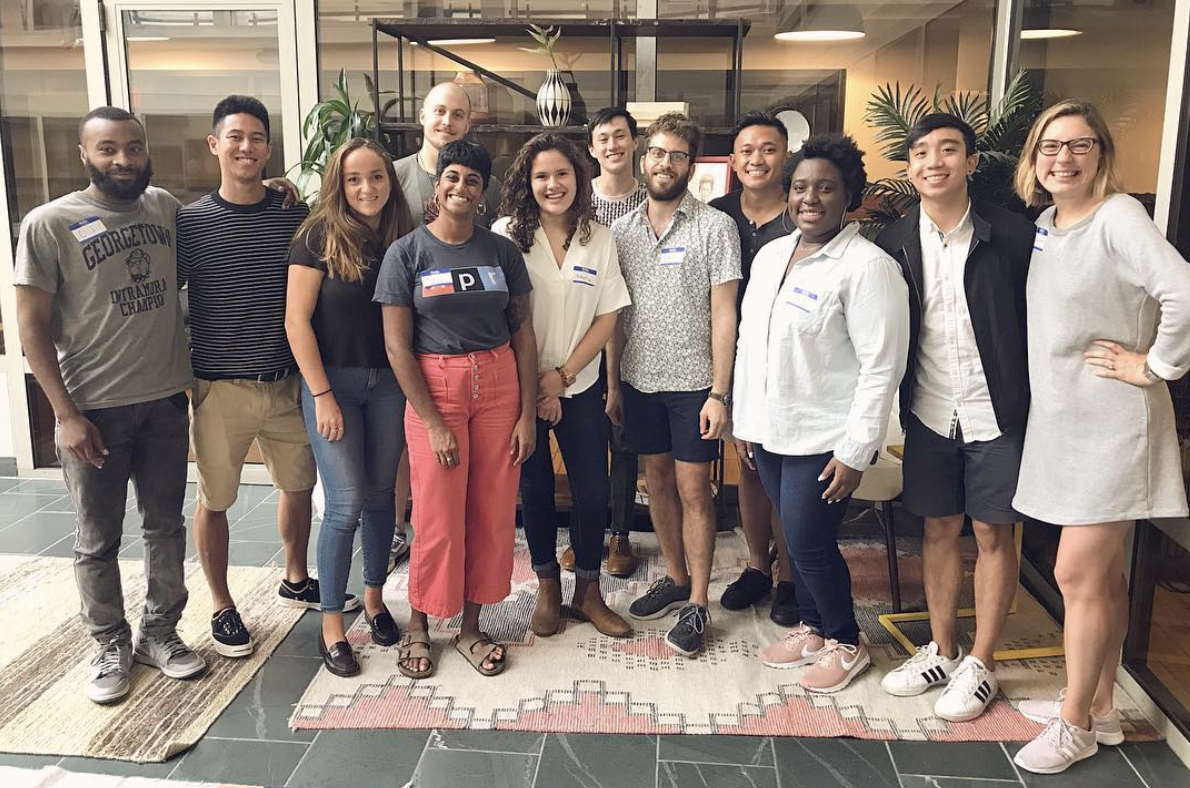 What does it mean to you when you see Rising Organizers Alumni return to be part of the team and lead trainings?
To me, that is the purpose of the program. Not to have them come back to work with us necessarily, but to take the training and apply it in the real world. If people complete the program but don't do anything with it, then we have not done our work properly. But if people go through the program, and they use the skills in some way to help them understand the world, to create a strategy to be part of our democratic infrastructure, all of that is a success to me.
March celebrates Women's History Month. Are there victories of the past that you bring into your work today?
All the time. One of the first things we have people read when they enter the Fellowship Program before class even starts is Ella Baker's Rules for Organizing. Ella Baker being a genius of a woman in the Civil Rights Movement represents a lot of our philosophy around leadership development. Fannie Lou Hamer, as well. We certainly learn fron the leadership of Black women and highlight their work and the lessons that they left us to teach good organizing.
I like to emphasize that unfortunately we've been here before. We have faced many, many, many moments in which our democracy failed itself and failed all of us. And the people that resolved that, that fought for a democracy that actually works, are organizers. And that includes, disclaimers on all of their problems, the Suffragist Movement in the early 20th century, fighting for women's right to vote. That includes the Civil Rights Movement, fighting for Black people to have access to the ballot. These are moments in which our democracy has not lived up to its promise. Organizers have said, "We're gonna work outside of that system. We're gonna cause some trouble, and we're gonna win." Right now I think we have an infrastructure that feels really challenged and is really polarized. The thing that I would love for more people to really ground themselves in is that organizers have got us out of this kind of spot before. If we invest in organizers, if we have more organizers, and if we are more strategic in the way that we think about our organizing, we stand a real chance of winning because we've done it before.
Learn about the Organizing Fellowship and many more training opportunities at risingorganizers.org and by signing up for their email list. Free public trainings are available for folks in Washington D.C., Maryland, and Virginia, and private trainings are available nationwide. To support the organization, donate here. To hire Rising Organizers to train your team, reach out to info@risingorganizers.org