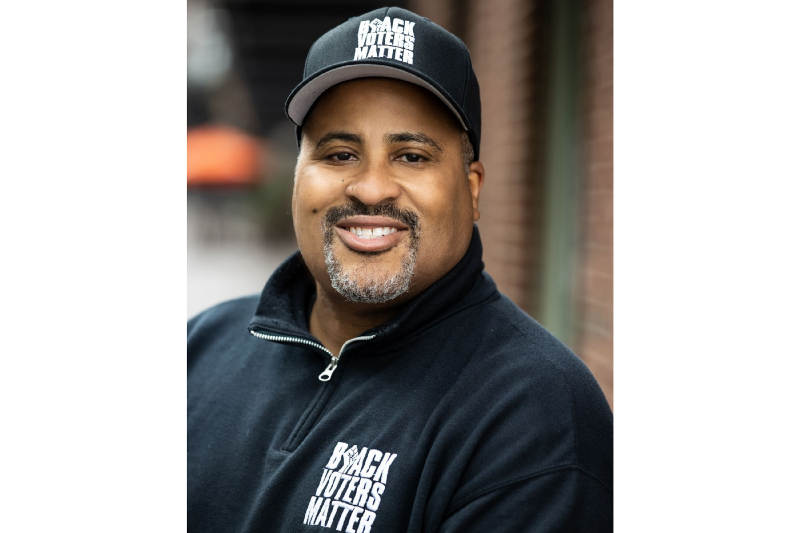 Cliff Albright is a Co-Founder of Black Voters Matter Fund (and BVM Capacity Building Institute), which builds community and organizational capacity related to Black voting power. BVM received national attention in 2017 when they helped mobilize Black voters during the U.S. Senate race between Doug Jones and Roy Moore. In 2018, Cliff and the BVM team traveled throughout seven southern states in "The Blackest Bus in America" energizing voters and exposing voter suppression. Cliff has contributed articles to The New York Times, The Washington Post, The Guardian, and several other outlets. He also hosts a weekly radio show in Atlanta and has served as an instructor of African-American Studies at several universities.
Cliff previously lived in historic Selma, Alabama, where he focused on bringing financial resources to Alabama's Black Belt region. Cliff attended Cornell University, where he obtained his B.S. in Applied Economics and an M.P.S. in Africana Studies. He also has an M.B.A. from the University of Alabama.
We chatted with Cliff over Zoom about his journey in activism, the importance of power building, and how the organization is reaching voters.
Mariah: Would you mind introducing yourself and telling us about the work that you do?
Cliff: I am the Co-Founder and Executive Director of Black Voters Matter, along with my dear friend and sister LaTosha Brown, and we are a power-building organization. Our mission is to build power in Black communities across the country. We believe that voting is one way of doing that, by no means is it the only way. We go about our civic engagement work not just by talking about voting. We talk about our issues and the things that folks in our community are passionate about like jobs, police violence, housing, gentrification, and environmental justice issues.
A big part of what we do is support local groups in the states where we do our work. Because what we know is that when we support groups like churches, NAACP chapters, neighborhood associations, youth, arts, and informal organizations without 501c3s led by some of the mamas and grandmoms, they get stuff done. We support the folks on the ground that are doing this work 365 days out of the year because that's when we matter.
"We don't just matter when it's election time, on Election Day or two weeks before Election Day. If Black voters are really going to matter, we've got to matter 365. And that's why we support what we call the '365 work'."
Mariah: A big part of your mission statement is to build power. Could you talk about your focus on power and the methodology behind that?
Cliff: First and foremost, we have to be comfortable talking about power. A lot of folks in our community don't really want to talk about power. The word power has been like a dirty word and taboo to talk about. Partially, because we view power as being something that's negative in the sense that we view absolute power and how it corrupts. Instead, we view it as Dr. King said, "Power without love is reckless and abusive". We've seen what reckless and abusive power looks like. That's the kind of power that we see in police violence and voting suppression. And for that reason, folks are not comfortable talking about power, specifically Black power.
"A big part of what we try to do is to change the narrative around power and around Black power."
We try to change the narrative by getting our folks comfortable with three notions: (1) That we have power. (2) We deserve power. (3) We're going to get it.
We help our partners gain their power by providing capacity support. Last year, we provided $10 million in grants to local communities. In addition, we also provided strategic support, including digital strategies. We focus a lot of work on communities that don't often get a lot of support, and we let them know that they matter and are loved.
Mariah: Could you tell us about your journey from Cornell University to now with your work with voting rights in the social justice movement?
Cliff: Thanks for bringing that up, because Cornell University is an important part of my journey. I initially didn't go to be a social justice activist. I was just a business major; my life's goals were to graduate, make six figures, and be happy. But I got introduced to activism through Professor James Turner, who opened my eyes to a lot of things through his class. I also read The Autobiography of Malcolm X, which my wife and I call "the antidote" because it's like taking that blue pill in The Matrix. Then from there, I got involved in two building takeovers on campus. Everything that I do now as an activist came from those campus movements, from communication strategies and building coalitions to matching tactics with demands.
Eventually, I moved to Selma, Alabama, a historic community where elections and voting rights have been so critical. I worked my first election in 2000. We not only elected the first Black mayor of Selma, but we also removed the incumbent mayor who served in 1965 on Bloody Sunday. We used our power that night to make something happen; to accomplish something historic. Just like Dr. King said in his speech in '57, give us the ballot, and we will get action on all our important issues. Since then, I've been engaged with voting rights as well as the wants of our community. And that's really what brought us to start Black Voters Matter.
Mariah: How has Black Voters Matter utilized technology in the time of COVID to further supplement your work?
Cliff: It's actually been a combination of using technology and traditional organizing. Having to switch to virtual events and town halls has made our digital outreach more important — our texting, email, and social media campaigns.
But we also went back to some traditional methods. In 2020, we knew we couldn't do door-to-door outreach as much, but we found another way to do it. You may recall in the early days of the pandemic when people did caravans for birthdays and graduations. So we thought, we can do that for our voter outreach, and we started 'The Blackest Bus in America', and we turned it into the Blackest fleet in America. We went out and got some of our partners and drove through communities. Instead of giving out paper, people could scan the QR codes on our caravans where they could register to vote, find early voting locations, and request their vote-by-mail ballots.
These caravans became both emotional support for those feeling isolated and a functional tool that provides resources. This was a huge part of how we dealt with the realities of COVID and being physically distant. We saw a huge turnout in our states throughout 2020, including the presidential election, not just in Georgia. We were also active in some other states like Michigan, North Carolina, and Pennsylvania, which all played a key role in the election.
Mariah: Is there anything that Black Voters Matter is working on that you're excited about and you would like to share, promote, or uplift for anyone reading this who would want to know where they can take action?
Cliff: Wow, there's so much that we're working on. We're excited about what's to come on voting rights. We'll continue the battle for voting rights throughout 2022 as the wave of voter suppression sweeps the country. There was a disappointing vote a couple of weeks ago on the Freedom to Vote and the John Lewis Voting Rights Advancement Acts, but it was a historic vote that would not have taken place if not for the movement. Even though the legislation didn't get passed, we'll still be involved in that campaign.
We're also launching our 1 Million Voter Pledge campaign. Our goal is to get a million people to sign onto a pledge saying that they want voting rights and are willing to help us get them. Show your support and sign the pledge here.
I'm also excited that we're going to be in Selma for the 'Selma to Montgomery March Commemoration'. It's a commemoration of both Bloody Sunday and the actual march that took place from Selma to Montgomery. Black Voters Matter will be hosting one of the days of that march, a 10 mile-leg. We'd like to invite folks to join us.
We also have an HBCU initiative called 'Take the Field' that launched a couple of months ago. There are so many brilliant young minds on college campuses that hold the key to social justice activism, and we're going to support them. Young folks have always led the way in the social justice movement, and today is no different.
We're facing some historic challenges. What we know is that when you're facing these types of challenges — voter suppression, books being burned, history being banned from schools, threats against our colleges, whatever setbacks that we may have had recently in this voting rights battle — what I know is if we keep pushing, if we keep organizing, history has shown us that when we work together in faith, we will win. Let us not grow weary in well-doing, for in due season we shall reap if we faint not.
Thank you to Cliff for taking the time to speak with us about such important work!
To learn more about the digital tools available at Action Network, sign up for a demo here.