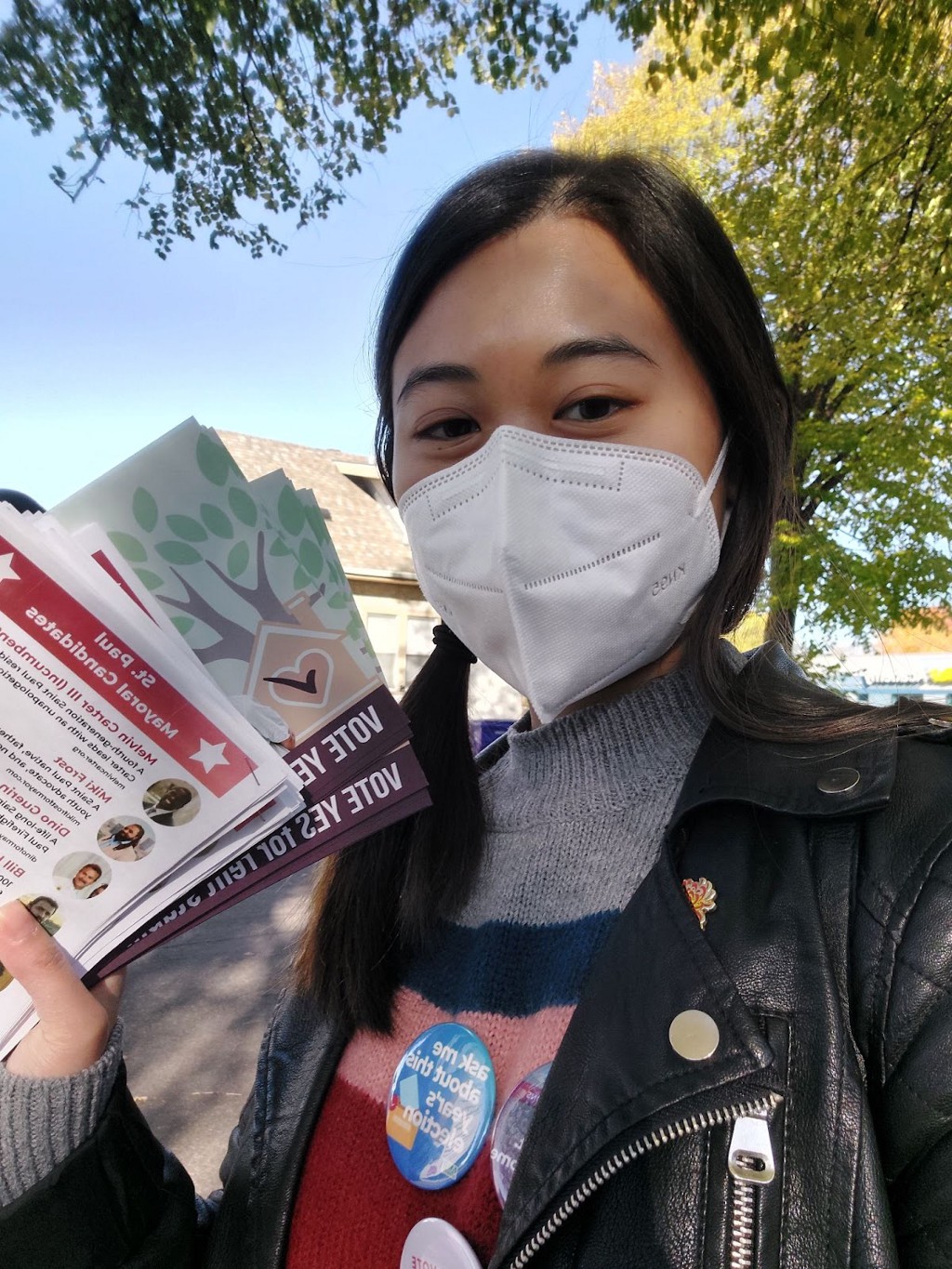 Leyen Trang (they/she) is a storyteller who believes in the power of narrative change, the power of youth-led, queer-led, and BIPOC-led organizing, and that we can all fight for the change we want in movement building. As Communications Director, they aim to amplify the voices of our young, queer, Asian folks. They care for and credit the people, the organizers, and the youth who have been part of organizing for change both at Asian American Organizing Project (AAOP) and beyond. Leyen aims to build spaces where we all can exist because we all have a place.
Could you introduce yourself and the work that you do?
My name is Leyen. I am the communications and digital director here at Asian American Organizing Project based in St. Paul, MN. I do everything digital and communications-related. I actually started off as an intern here at AAOP; I've since grown in my understanding of digital strategies, and I utilize them for storytelling to really move our people. I firmly believe in the power of storytelling and narrative work. I follow Ricardo Levins Morales' Soil Theory that "the soil is more important than the seeds". This means our projects, campaigns, and initiatives can be seen as seeds. You can gain buy-in from your base by planting these ideas to win campaigns or gain support. This work is only possible with a rich soil of shared beliefs and ideas. That's where storytelling and narratives come in. Our seeds can only grow in the environment if it's nutritious enough to allow our constituents to be swayed into what we're fighting for.
Can you tell me about your journey? How did you find yourself venturing into this work?
I come from immigrant parents that are Chinese and Vietnamese who fled to the U.S. after the Vietnam War. I grew up with the idea of assimilation and was always told to keep my head down. It was not until I got into college and got exposed to the different people and cultures that I was able to also connect with my heritage more and actually articulate some of my experiences.
I grew up in a semi-diverse suburb outside of Minneapolis. Being around more Asian folks who were already engaged in conversations around issues that affected us helped me understand the impact of finding your people. I eventually met Linda Her, our executive director, after college. She was one of the first queer Asian people that I met doing this type of work and it was so inspiring. Organizing is really about buying into the people whose values resonate with you. At that moment, I felt like this was good work to be a part of.
One of AAOP's values is intersectionality. Can you talk about the meaning and its importance to your work?
In college, it was difficult finding spaces where I could be my full self because I'm also queer. There were a few clubs for LGBTIA+ folks, but there wasn't an intersection of these different identities, as I'm sure it was true for other BIPOC folks at my school. To see folks like Linda in spaces that allowed for these identities really helped me recognize its need early on.
In 2016, AAOP, along with a few other Asian organizations, started to fill the void of supporting young, queer Asian folks in Minneapolis. That's really important because the history of movement-building work centers gender justice, youth, and BIPOC folks to ensure they are at the forefront of our work. This is extremely important when it comes to liberation because we want to make sure to build this multiracial society that is aligned with those values.
Can you share the purpose of AAOP being a youth-centered organization? How are youth encouraged to lead?
AAOP started as a volunteer-led organization centered around Get Out the Vote campaigns and has since transitioned, under Linda's leadership, to a youth-led organization because we noticed that there was an opportunity to hear and learn from our young people who have historically been left out of decision-making conversations. They too work, go to school, and have the power to vote. So when adults talk about issues like student loan forgiveness, vaccinations, and gun violence in schools, we need to include our young people for their perspective to inform the policy decisions that impact their lives as well. These are just some of the reasons why our young people need to be able to lead.
What are you working on right now? What are you excited about?
We have a Summer Youth Program for high schoolers interested in developing their skills as an organizer. The program integrates civic engagement, community and cultural organizing, and participatory action research. We discuss issues impacting the Asian community like reproductive justice, gender justice, and climate change. This is a space where people can ask questions and really learn from one another. The demand was so high from our youth out of high school that we also developed an Organizing Fellowship Program to engage and train them to become involved in community work from livable wage campaigns to defunding the police initiatives.
Then we have our Civic Engagement Program which includes electoral outreach. We engage with young Asian folks and those who generally don't vote outside of the presidential election. Our main focus is teaching them the importance of local elections and year-round organizing. This includes door knocking, phone banking, emailing, texting, and of course, social media outreach.
We have a Gender Justice Program. This program includes research and a workshop series covering reproductive issues, sex education, and topics students want to see in their school curriculum. Our workshop was actually created in response to the gap between what was taught in schools and what our queer young Asian folks needed to know. This is part of a four-event workshop series. We have quite a few upcoming workshops and events this summer, including a reproductive rights panel where experts can share their knowledge and experiences with our young folks.
How have Action Network and other digital tools made a difference in doing this programming?
We previously used another CRM! I spearheaded our transition to Action Network because of all its great features. Because of this, we've been able to tailor our messaging a lot better for the people that we're reaching out to based on their interests and events. Sending generic emails doesn't work well, but targeting and ladders have shown the most promise and keep our engagement up.
For people reading this, where can they take action and support AAOP's work?
Yeah, definitely. Our social media platforms Facebook, Instagram, and Twitter are great places to keep up with our work. Folks also should sign up for our email list. While we currently don't have any campaigns, folks are welcome to follow Youth 4 Ethnic Studies, which we are part of, and our New Narratives Podcast work.
Thank you to Leyen and the team at the Asian American Organizing Program for participating in this interview!
You can learn more about Asian American Organizing Project and sign up to get involved at https://aaopmn.org/.